Bild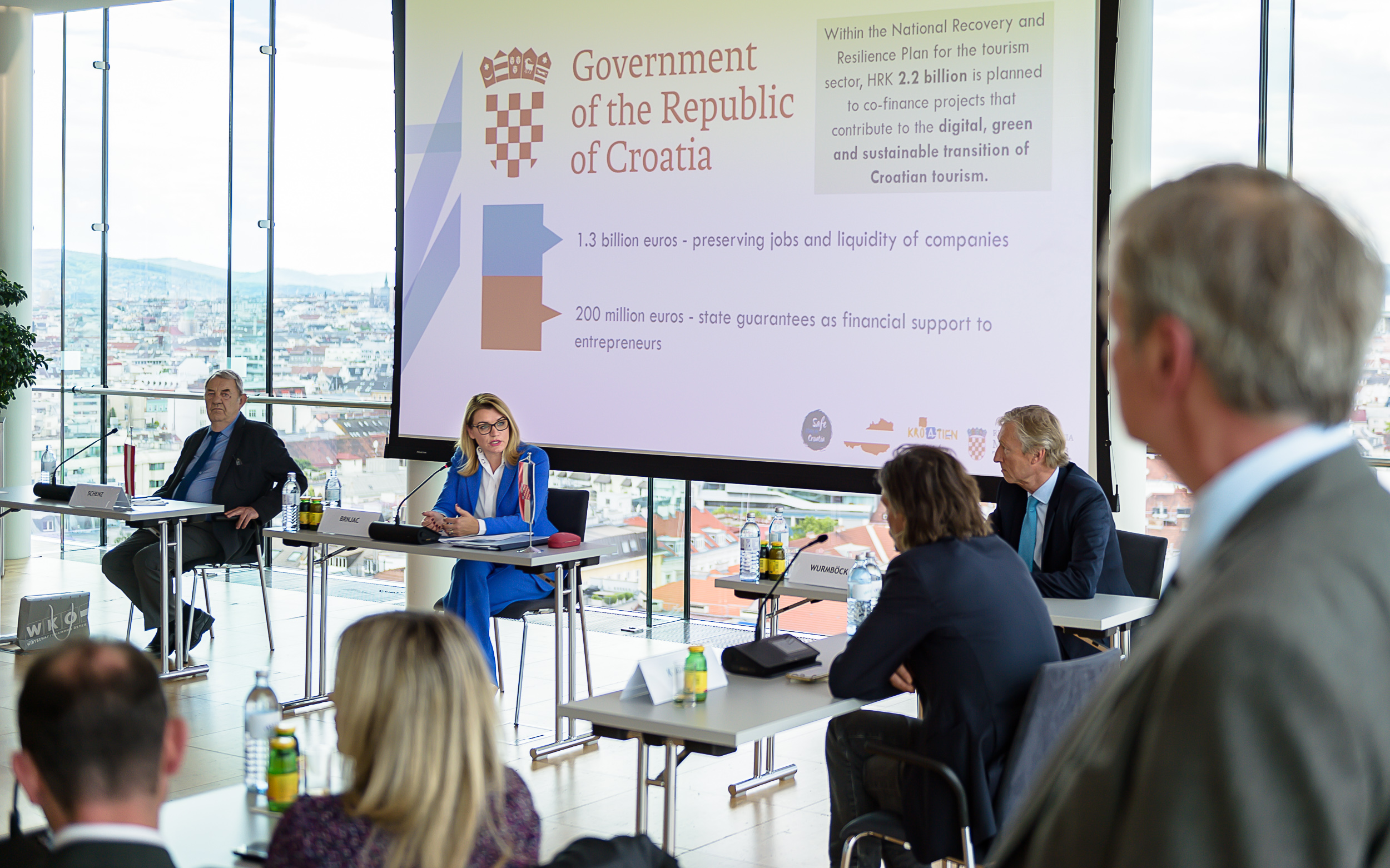 In the course of her official visit to Austria, and after a successful meeting with Elisabeth Köstinger (Austrian Federal Minister of Agriculture, Regions and Tourism), the Minister of Tourism and Sports of the Republic of Croatia, Nikolina Brnjac, met with a round of the most important Austrian representatives investing in Croatian tourism. Minister Brnjac and the investors - including Falkensteiner, Valamar, Bretanide Sport & Wellness Resort, Radisson Split, Liburnia Riviera, Gebetsroither Handels GmbH and International GmbH, Esplanade Zagreb Hotel, Pitter Yachting, operating in Croatia - agreed that Croatia is safe and thus exceedingly ready for the 2021 summer season. They welcomed the decision that the quarantine obligation for Austrians returning from Croatia has been dropped.
That the epidemiological situation in Croatia is becoming more favorable is also confirmed by the 7-day incidence, which is currently 49.5 per 100,000 inhabitants.
The meeting was organized by the Austrian Chamber of Commerce (WKO) and the Croatian Tourist Association (HUT) under the auspices of Valamar Riviera, with the participation of about 20 Austrian companies and investors who have invested over one billion EUR so far, making them the largest investors in Croatian tourism.
"The epidemiological situation in Croatia is improving and Croatia is fully prepared for tourists. At yesterday's meeting in Vienna, we agreed that passengers traveling from Croatia to Austria will not be subject to quarantine as of today if they are tested, vaccinated, or recovered. Austria will check the epidemiological situation according to the same rules as Germany, using data from the Robert Koch Institute. As of today, Croatia is also starting to use the EU digital COVID certificates, and bilateral trials with Member States are underway – so far, the COVID certificates have been validated with more than ten countries, including Austria. We have agreed on the principle of reciprocity when crossing the border - the certificate is valid for 22 days after the first vaccination dose. Austria is the most popular destination for Croatians, and Austrians have a long tradition as guests in Croatia. Even in the last "pandemic year" there were more than 335,000 arrivals and more than 2 million overnight stays. Even this year, we want to welcome Austrian guests in their favorite destinations Istria, Kvarner and Central Dalmatia; and we want to support them in discovering new favorite places in Croatia. We have done everything to ensure a safe stay in the Republic of Croatia, as well as to make arrival and return as easy and quick as possible. A comprehensive vaccination of our tourism employees is underway, and in some counties the vaccination coverage rate is already at 60 percent. With all these steps we have taken since the beginning of the year - the project 'Safe stay in Croatia', the establishment of additional 300 testing points for tourists and with the cost financing of the tests - we have created the conditions for a successful season," assured Minister Brnjac.