Bild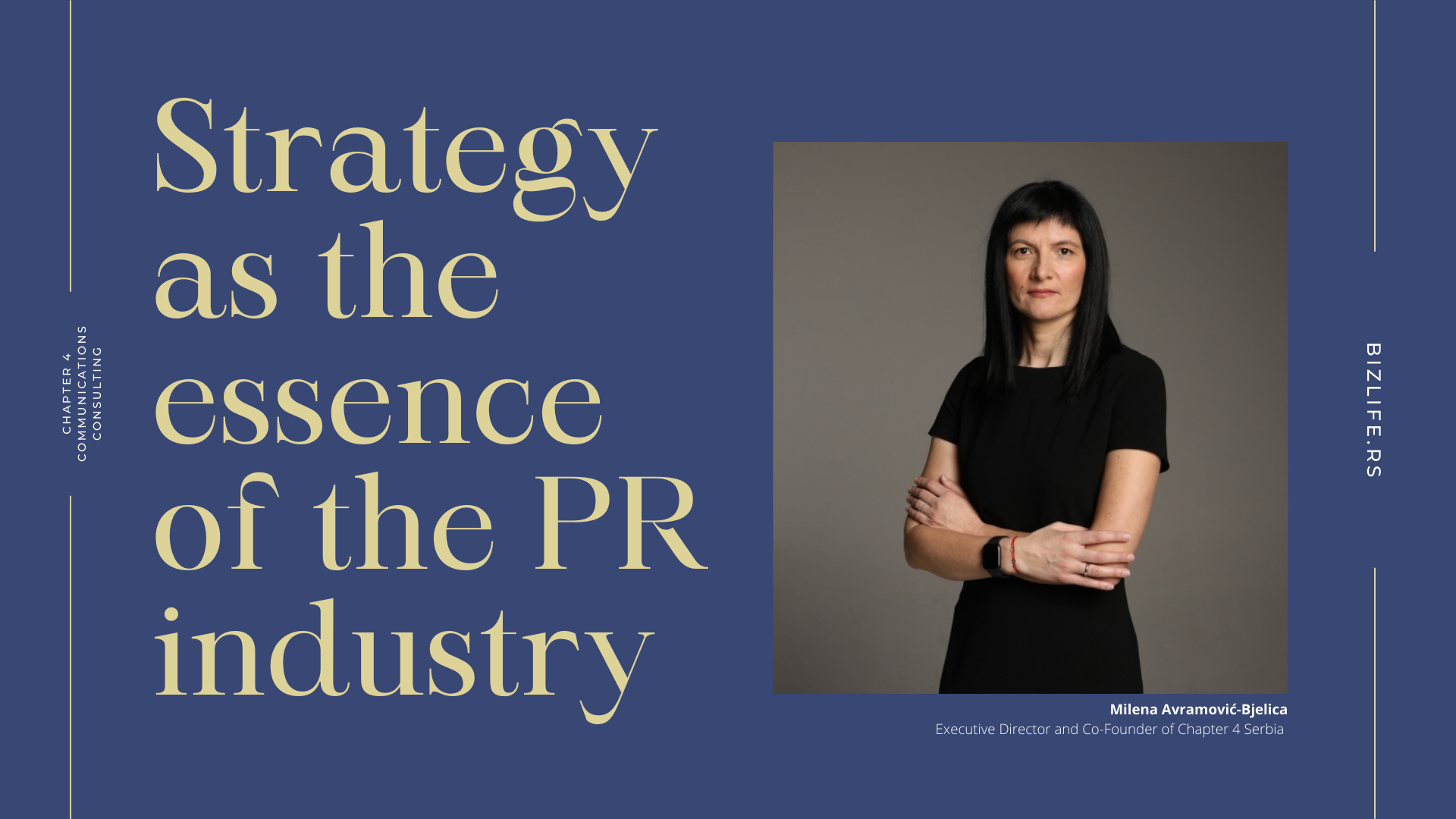 Executive Director and Co-Founder of Chapter 4 Communications Consulting in Serbia, Milena Avramović-Bjelica, spoke about the PR industry and changes in the field of communications for the 100th anniversary issue of Bizlife magazine.
1. The PR industry is practically "reborn" every year. What changes has the pandemic brought to that industry and how much impact will it have on future trends in that industry? Is the traditional form of PR irreversibly outdated? 
Avramović-Bjelica: The essence of the PR industry has always been and will be in strategy. What is changing are the tools and channels through which the target audiences are reached. The pandemic found everyone unprepared, but it seems to me that we have adapted to the new situation the fastest and easiest from communications. The pandemic changed PR insofar as it opened the way for communication from management to all levels in companies, accelerated decision-making and created conditions for employees and business processes to adapt and transform faster and contributed to greater solidarity with the local community. 
2. The growth, in fact the "boom", of the popularity of social networks, from YouTube to TikTok, has changed the way companies communicate with their target audiences. In your opinion, what is the most important thing that social networks have brought? 
Avramović-Bjelica: Two-way communication is what is the biggest benefit of social networks for both users and companies. Previously, only brands sent messages and users received them without being able to hear their opinion. Social networks and online communication in general have changed that. 
3. Would you rate content marketing as an evolution or a revolution? 
Avramović-Bjelica: I would say it's evolution. Traditional marketing aims to sell the product itself, while content marketing is more concerned with the idea of the product, its goal is to leave an impression and keep the user's attention, providing the user with meaningful and relevant content for him and which has value for the user. 
4. Chapter 4 has been operating on the Serbian market for more than a decade. What are you most proud of in your business so far? 
Avramović-Bjelica: We are proud of our team that is completely dedicated to both the agency and clients, which is constantly improving and following all the news not only in our industry, but also in complementary industries, business in general. We are proud of our clients with whom we have a partnership built on mutual trust and with whom we share common values not only when it comes to business culture but also social responsibility. 
5. What is one piece of advice you always give to clients? 
Avramović-Bjelica: PR is a process. It's not like paying for an ad and seeing its effects in the coming weeks. PR is a long-term commitment that builds brand authority, trust and relationships with target audiences. 
6. How will you remember this year, personally and professionally? 
Avramović-Bjelica: This has been a challenging year in every way. I will remember it because despite all the difficulties, I am still on the move. Professionally, as another successful year for our team and clients.